Publié le 15 septembre 2021
Texelis looks to the future of armoured vehicle mobility at DSEI 2021
date

15/9/2021

lieu

Limoges
Texelis is exhibiting at DSEI 2021 on stand H6-340 in the French pavilion.
Texelis will present the future of armoured vehicle mobility at DSEI 2021, with its proven MR400 mobility solution for highly strategic and mobile military protected vehicles.
The MR400 comprises a full vehicle driveline, including axle, powerpack, suspension, steering, cooling, exhaust and electrical systems. This Texelis mobility solution delivers exceptional off-road mobility with air transportability, whilst simultaneously supporting high levels of protection and a high payload capacity.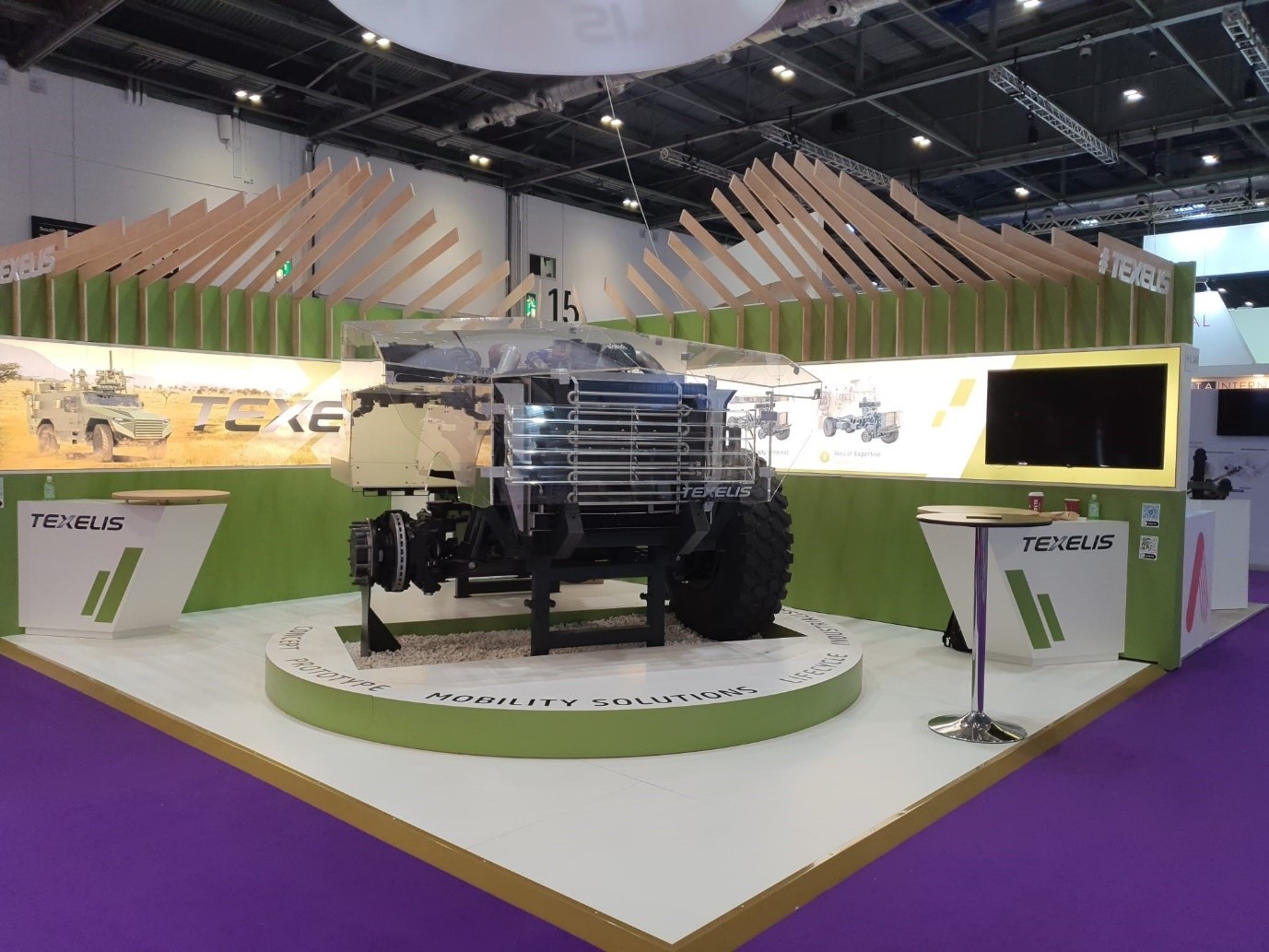 Derived from the solution designed for the French DGA's lightweight 4×4 VBMR vehicle as part of the SCORPION programme, the MR400 is a de-risked mobility solution for customers seeking ambitious, high performance mobility for integration on military 4×4 armoured vehicles. As part of the VBMR programme, the MR400 has undergone thousands of hours of test bed and on-road trials, and is currently in production at Texelis' facility in Limoges, France, from where the company will also provide spares for the French programme for the next 30 years.
Customers looking to tackle the mobility challenges of the coming decade in partnership with Texelis will also benefit from high levels of localisation as part of domestic vehicle programmes.
The Texelis mobility solution includes technology from industrial partners Cummins, Allison Transmission, PowerLine, Michelin, KONI and Hutchinson.
"Our work on the VBMR programme has allowed us to refine our capabilities in vehicle mobility and our facility is fully equipped for a ten-year production run and 30-year supporting role for the French SCORPION programme,"
Jean Vandel, Managing Director at Texelis Defence
,
said. "Now we are bringing this expertise to the world, with a proven, reliable and modular solution that is available to test drive on the track in France
.
"The growth of the urban battlefield and need for armoured vehicles to be highly protected while air transportable has driven a revolution in mobility – and Texelis is at the forefront of this innovative work. We look forward to meeting with new partners at DSEI 2021, and helping them to meet and overcome the mobility challenges of the coming decades."
A scale model of the MR400 is available to view on Texelis' stand at DSEI (H6-340), along with details of the full range of Texelis mobility solutions, and information on the new in-wheel Electric Hub Drive being developed in partnership with QinetiQ. Combining Texelis' mobility expertise and manufacturing excellence with QinetiQ's electrification capabilities, the Electric Hub Drive is a break-through technology for the military vehicle market, offering vehicle OEMs more freedom and flexibility than ever before to design the best vehicles for tomorrow's battlefield.